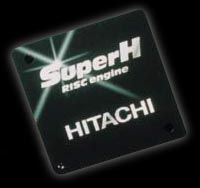 H-252

The H-252 CPU offers higher processing speed, more I/O points and more advanced networking functions than ever. The model comes with a PID function as standard, best suited for temperature flow/rate control, and has a large program memory capacity that can hold up to 15.7k steps. The PLC gives exceptional response to complex, demanding control applications.

Since the peripheral devices and programming language for the higher ranked H-300 and H-2002 are applicable, the easy to use H-252 is suitable for all sorts of applications across a broad range of industries. Compact design ensures this is the smallest PLC available for this level of control.

H-4002

Hitachi's most powerful CPU in the H-Series, the H-4002 has an extremely powerful engine with a 32bit RISC microprocessor and a very large memory capacity of up to 97k steps. The H-4002 has superb networking capabilities, offers 4096 I/O points and high speed processing of 0.05ms. There is also a choice between direct and refresh I/O access methods. The use of Flash memory obviates the need for batteries.
Sprecher + Schuh
The Sprecher + Schuh SESTEP, 390, 490, 590 and 690 range of PLC's were a badged version of the Hitachi PLC's. They are still a current Hitachi range and are fully supportted by HID and Hitachi. Please click the link below for a comparison table of the Sprecher + Schuh and Hitachi Part Numbers.

Sprecher + Schuh to Hitachi Comparison