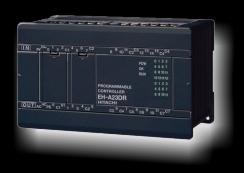 The Hitachi EH-Micro Series programmable controller offers unrivalled high performance in such a cost-effective compact package. The EH-Micro Series meets the needs of small to medium scale control factory automation.

The small footprint is ideal to help reduce panel sizing. High functionality is provided with a 3k-step memory as standard; up to 256 timers and 511 counters; a two-phase high speed counter; interrupt input; high function type analogue timer and built-in analogue inputs and outputs as standard.

The EH-Micro also has two built-in pots which can be configured for any task requiring a variable analogue reference. This combined with its compact size enables easy installation and maintenance.
Direct PC connection and monitoring are other useful features. There are a number of compatible software programs available internationally, such as ActWin for Windows 95 and Windows NT.