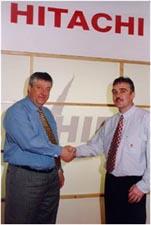 HID has formed a new partnership in Northern Ireland with the drives and transmissions specialist Technidrive, to distribute and support the Hitachi ranges of inverters in the region.
HID's managing director Stephen Scales has ambitious targets for Northern Ireland with anything up to 30% market share a realistic possibility for the new dustribution arrangement. He explains his optimism, "we already hold a strong presence in the country having completed many large projects in the past few years. We have identified some strategic applications where the combined expertise of HID and Technidrive brings technical and commercial advantages to the customer".
Indeed, in a recent project for a major textile producer, Technidrive specified and built an entire panel to control a winding process with Hitachi J Series drives in an open loop configuration. Within the same panel was a control computer for a separate heating process that also had to be integrated by Technidirve.
Technidrive is headed by John Coulter an experienced drives specialists who has sold and supported Hitachi drives in the past. The company offers the distinction of being able to provide expert advice in the specification of complete drive systems, including the supply of motors and gearboxes as well as the inverters.
Technidrive holds the entire Hitachi inverter range in stock from the tiny 0.2kW L100 drives, through the complete range of new SJ100 models up to and including much of the J300 sensorless flux vector range of inverters. Larger J300 models are also available from Technidrive on short lead times.
John Coulter said of the relationship with HID, "being able to offer the Hitachi products is a major factor in Technidrive's business. Our own expertise in drives, motors and gearboxes coupled with HID's exceptional technical support and assistance, means we can offer what is a unique service within Northern Ireland".
Stephen Scales added, "we have worked with John Coulter over a number of years in Northern Ireland and are delighted with Technidrive's technical knowledge, service and support. HID is committed to working in partnerships and that means we shall be supporting Techidrive in every way possible".