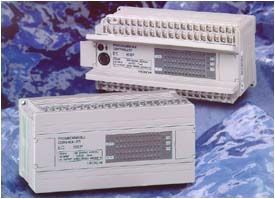 Generally block PLCs incorporate only digital I/O with an analogue option available as an expensive add-on block. However, Hitachi has now been able to provide high specification analogue I/O into its standard range of EC brick PLCs, without increasing unit size, and at a sensible price.

The well-established Hitachi EC compact PLC series now incorporates two analogue inputs and one analogue output. This is available in the EC 20, 28 and 40 digital I/O units and does not increase the standard block size of 170 x 80 x 75mm which is required for installation. The product still adheres to the 'all in one housing' concept of the EC range.

The two analogue inputs have a resolution of 11 bits and the output has a resolution of 8 bits. All analogue I/O can be selected independently for 4-20mA or 0-10Vdc, and the 24V DC digital inputs can be user configured for NPN or PNP input.

As well as offering high capacity in a compact package, all EC models can be DIN rail or wall mounted. Hinged flaps cover all I/O terminations and LED indicators on the front face provide information on the PLC status and digital I/O operation. The EC unit can be supplied with a choice of either 85-264V AC or 19.2-30V DC voltage supplies. An external 24V DC supply is available for I/O groups, actuators and sensors up to a maximum load of 470mA. This eliminates the need for additional power supply costs.

Up to four inputs can be utilised for fast interrupts, which offers quick reaction to events independent of cycle time. Alternatively, these inputs can be used as a single 10kHz high-speed up/down counter. An RS-232 interface allows programming via a PC or connection to an HMI, while the 2K integrated EEPROM programme memory negates the need for a battery.

There are a number of compatible PC software programs available, from simple DOS-based programs up to the latest 32-bit Windows 95/NT IEC1131-3 international standard program. All software packages provide help systems to assist the user in every aspect ensuring cost-effective application development.

To complement the range of Hitachi PLCs, HID has produced a comprehensive range of training seminars to provide engineers with in-depth product utilisation and application knowledge.

This unique product and services package provides engineers with flexible options suitable for all automation requirements.
Return to Press Office Menu