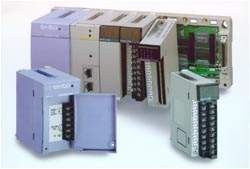 Responding to demand for compact programmable logic controllers that offer high function capability, HID has launched a radically different range of PLCs from Hitachi.

The Hitachi EH-150 micro PLC is the smallest unit yet for its capabilities, offering the benefits of larger expandable rack units. Two CPU options at the system's core give up to 8,000 steps and 256 I/O points. There is a modem port and an expansion unit, allowing for up to 16 slots.

At the heart of the unit is a 32-bit RISC Super H microprocessor operating at 20MHZ. This processor, also developed by Hitachi, is one of the most commonly used processors in the world.

The EH-150 offers high-speed communication at 38,400bps, with a basic processing speed of 1microsecond or less and an application processing speed of a few microseconds. The user has eight command groups at his disposal, offering a total of 125 powerful commands. The Flash memory option, which stores the application program, comes as standard. Further data can be stored on the built-in RAM is battery-backed. Also offered is an option for a memory card, which allows for the transfer of application programs.

An important feature of the EH-150 series is the greater flexibility offered when it comes to updating the rack. When purchasing a basic PLC, future module requirements have to taken into account at point of sale. The EH-150 allows insertion of any module (input, output or analogue) into any slot. This gives greater flexibility in configuring and updating the rack.

This flexibility also applies to the installation - it couldn't be simpler. All that is needed is the base unit, available with three, five and eight-slot bases, and the individually required modules, which are simply plugged into the slots. The whole unit is then snapped on to a top hat DIN rail or screwed to the wall.

All components are CE approved and the unit will be certified according to the CE Low Voltage Directive standard. Like all the other Hitachi PLCs from HID, the powerful Windows 95-based Actwin software makes programming simple. The Actwin software package, compatible with Microsoft Windows and Microsoft NT, is IEC 1131 compliant.
Return to Press Office Menu