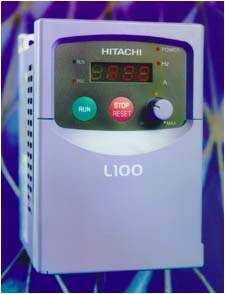 HID has unveiled the latest small AC inverter from Hitachi which, while compact in size, has features of more sophisticated and expensive drives. The inverter addresses the huge market for small AC motor control.

Designated the Hitachi L100, the drive is a general purpose unit capable of handling most AC applications. Single and three-phase models are available from 0.2kW to 2.2kW in the 200V class and in three-phase from 0.4kW to 7.5kW in the 400V class.

While the L100 is ideal for stand alone motor control applications, Hitachi has addressed the potential for the products in systems by incorporating as standard PID control and RS422 communications. There are seven inputs of which five are programmable and two programmable outputs as well as an alarm output. Access to the terminal rails is by opening the hinged front case. There is also the option of a variety of fieldbus communications.

Speed setting is either via a simple potentiometer on the front panel or by external analogue or digital signals . A standard on board keypad and LED display is used for programming. The L100 is protected and there are alarms for overcurrent, over voltage, under voltage, over temperature, overload, ground fault and so forth. Automatic voltage regulation is included for output voltage control. There are two acceleration/deceleration ramps for setting rates between 0.1 and 990 seconds.

The L100 is a truly global product and carries UL and CSA approvals as well as being CE certificated for low voltage and EMC Directives. All sizes are immediately available from HID Limited.
Return to Press Office Menu